StrataQED enables analysts to build models that estimate the impact of marketing activities across a series of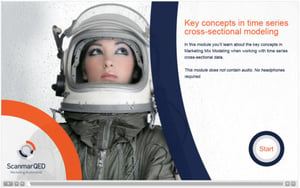 markets or customer segments simultaneously. This allows for more granular insights to be generated and even more actionable outcomes from the model.


The course starts with the key concepts of cross-sectional modeling, then moves on to explain how to set up cross-sectional projects, hierarchies, and costs data values. Next, users learn how to set up model searches across multiple regions or markets, how to choose an equalizing factor and how to perform fixed and mixed effects modelling. Finally, the course explains how to gain rapid insights by analyzing your cross-sectional data nationally, regionally, by store, brand or even customer segment.

As with ScanmarQED's previous Modeling Professional and Modeling Expert courses, after viewing all elearning course modules learners can take the certification exam to become a certified Modeling Master.


Those who have completed the Professional and Expert Modeling courses will automatically receive login details for the Master course.

For questions about this course get in contact with the elearning team at elearning@scanmarqed.com.