New High-Low Chart
There is no surprise when saying that price plays an important part of your revenue. Naturally, you want to keep close track of it, so you will be happy to hear that we are introducing a new high-low chart. It's excellent for showing low, mid, and high values as a band which is particularly useful for visualizing price ranges for a product or showing movements in price over time. Of course, you can also use it for other values. Visualization is key in gaining actionable insights, so you want to make sure that you are using the most fitting chart for the job.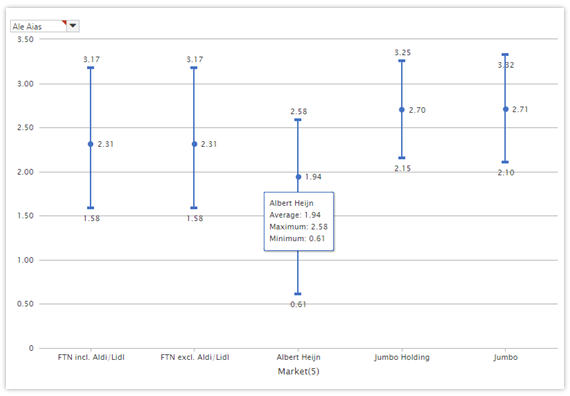 Trendlines in Scatter Charts
Trend or regression lines show the trends or line of best fit in one or more data series so that you can predict what will happen next. To make more accurate forecasts, the type of trendline you select is important, so you need to make sure that you pick the right one for the job. To help you with that, we are introducing Exponential, Polynomial (Order 2 & 3), Logarithmic, and Power trendlines in scatter charts, next to the Linear trendlines that were already available. With more options to choose from, you are more likely to find the perfect fit.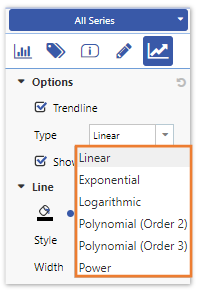 You can also apply a trendline type to all series or select a different trendline type for each series. The choice is yours. New possibilities for you to create useful visualizations that contribute to more accurate analyses.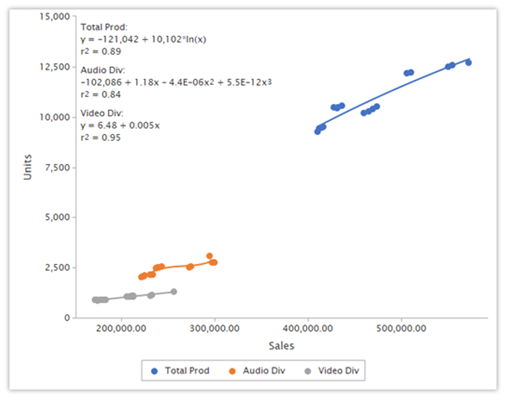 Automatic Tag Selection in Tag Pagers
If you use Tags and Tag Pagers to filter the content you want to see in a Dashboard Explorer, you'll be happy to know we've enhanced how they work to improve usability. Now when only one option is available in a Tag Pager, it is automatically selected. No need to select it on your own.
This function is especially useful when you have two Tag Pagers such as 'Country' and 'City' working together. For example, if you select Belgium in the 'Country' Tag Pager and there is only one city available for that country, it is automatically selected. A smoother navigation experience with fewer clicks required to get to your reports or dashboards.
Delayed Display of Search Results
We've added a brand-new setting called 'Delay display' in the list of Dashboard Explorer settings. It allows you to start your search from a clean interface without all the available content showing automatically. Instead, you are prompted to make your selections in the Tag Pagers. It eliminates potential distractions, especially when you have numerous reports and dashboards, and as we all know, fewer distractions lead to more efficient work.
Sort on "Created Date"
When working with MarketingTracker, you are most likely to have many different dashboards and reports. To help streamline your work one of our goals is to make navigation as easy and intuitive as possible. That's why we are excited to bring you yet another sorting option, the "sort by created date"! Now content in your publications, projects, and dashboard explorer can be sorted by the created date, making it easier and quicker to find what you are looking for.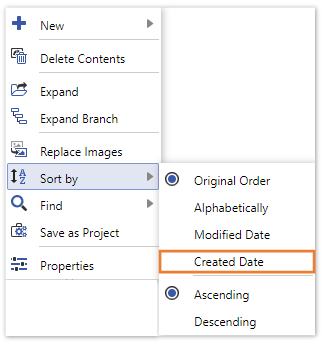 Want to Know More?
If you are already using MarketingTracker, you can log into the Knowledge Base to read the full release notes and find other educational content here.
If you are not using MarketingTracker yet, but you are interested in learning more, you can read our product factsheet and request a demo here.
At ScanmarQED, we're constantly striving to help you get actionable insights that allow you to make smarter marketing decisions. If you have any questions related to MarketingTracker or any of the other products we offer, please contact us, and we'll be happy to discuss how we can help you and your organization.