ScanmarQED expands reach to aid global Brands with Marketing Analytics solutions.
In December 2017, we officially opened our new regional headquarters in Dubai, United Arab Emirates. This location, known for being a regional hub to the Middle East, Asia and Africa, is recognized for being the base of many brand owners to run their operations for those regions.
This was started off by organizing a Smart Insights Event in the well-known landmark, Dubai's Burj Khalifa.
Now officially established, regional director Tom van der Poel is reaching out to brand owners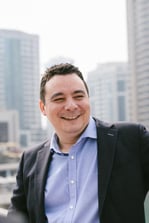 across industries. He says: "Brands have data but often do not know it or well enough to know what's possible with it. Through decades of proven expertise we take away that insecurity so they can truly dare to do more with their data. Tom adds to this that he is proud to bring ScanmarQED to this part of the world. Tom: "There is a strong culture of growth, and drive for success. This goes both for business owners in the UAE as well as at ScanmarQED, which makes it a good match. Therefore we look forward to helping our clients to show them the money still on the table and inject the performance of their brands."
The new office is located inside Internet City, Dubai.