Among the 150+ companies that participated, ScanmarQED was the only software OEM to attain a full score on the growth index thanks to its strong (SaaS) proposition of smart technology solutions (using Artificial Intelligence and Cloud technologies) and for all-round excellence in creating software solutions for marketers and brand owners in the areas of predictive analytics, sales and operations planning and forecasting.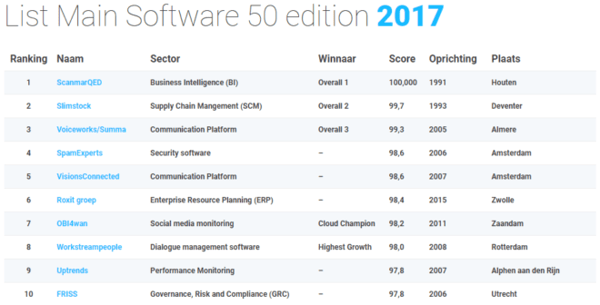 Alongside the host, Roelof Hemmen, was keynote speaker Remco Brouwer (Senior Vice President of Digital Transformation at Randstad Holding) whose core message detailed the transformation of Randstad into a software-driven company and how they grew and developed the business globally.
ScanmarQED, likewise, is enjoying phenomenal growth and has further extended its proposition globally by opening a new office in Dubai.